Software Gun
Software Submission Aid
for Software Authors
---
Click here or here to download the latest version
v1.1
(Only 470kb)
What is Software Gun? - This program helps software authors to submit their program details to software distributors on the Internet. Automatically creates program submission reports. Includes links to over 100 software submission sites on the Internet. This program does not do all the work for you, like some more expensive programs, but only helps to ease the job of manually submitting your software to distribution sites.
- Free Upgrades -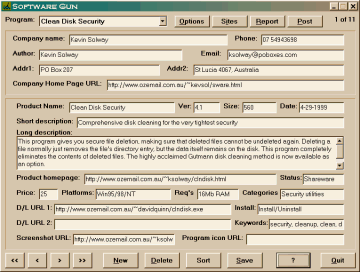 Cost: $20

INTERNET ORDERS

Fill out the secure online order form at NorthStar Solutions.

PHONED ORDERS

Calls are taken 9am-7pm, CST, Monday-Friday

800 699-6395 (From the U.S. only.)
785 539-3731

Ask for "Software Gun", Product Number 3730

FAXED ORDERS

Available 24 hours.
785 539-3743

E-MAILED ORDERS

Internet: starmail@nstarsolutions.com
CompuServe: starmail
America Online: starmail

MAILED ORDERS

You may register with credit card, check, or money order.

Make any checks payable to NorthStar Solutions and send to:

1228 Westloop Pl, Suite 204
Manhattan, KS 66502
USA

If you are in Australia you may find it more convenient to send payment directly to me. In that case make cheques payable to "Kevin Solway" and send to:

Kevin Solway
PO Box 207
St Lucia
QLD 4067
AUSTRALIA

Please provide (or be prepared to provide) the following information:

The program you are registering (Software Gun - Product Number 3730).
Your mailing address.
Your Visa, MasterCard, or Discover # and its expiration date (if using credit card).
Your drive type if other than 3.5".
Your E-Mail address (so NorthStar Solutions can send you an E-Mail confirming your order and so I can contact you easily with any important follow-up information, upgrade announcements, etc.).
---
Kevin Solway: e-mail: software@theabsolute.net